【International Scholar】Caspar Lant | Unexpected Connections to Taiwan. NYU Fulbright Fellow Utilizes NTU's Interdisciplinary Resources.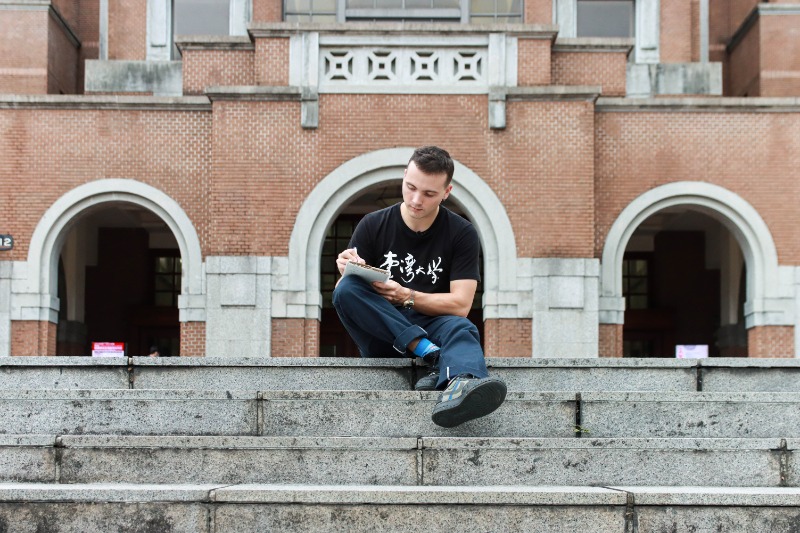 Caspar Lant, an adjunct instructor of physics from New York University (NYU), is passionate about scientific research and hopes to utilize his research to decrease damage and impact to the environment. He is outgoing and energetic, with a love for not just the sciences, but also culture and languages. Before coming to Taiwan, he had also conducted research at Berlin and Shanghai. He is fluent in English, German, and Chinese.
Every year, many scholars from all over the world choose Taiwan as their destination to explore and advance their research portfolio. National Taiwan University (NTU) is honored to be able to welcome many international scholars onto the campus and host them at various research facilities or labs. So why are these scholars interested in NTU? What do these scholar research about? Come along with the OIA Investigation Bureau to learn more!
Unexpected opportunity to visit Taiwan turned into a memorable experience
Caspar Lant was awarded a Fulbright Program Scholarship in 2020 and looked forward to visiting China for a year. But as the saying goes, even the best-laid plans can't catch up to changes, and Caspar found that he had to change his destination. Also looking to continue his Chinese studies, he chose Taiwan as the place he'd call home for a whole year. He connected with Professor Jane Hsu of the NTU IoX Center to be hosted at NTU and this trip to Taiwan became an unforgettable exprience. As an international scholar, Caspar looks forward to exploring new directions of research and connecting with international peers. He also wants to utilize the long-term overseas opportunity to interact with the local community. Caspar elaborated on his decision to choose NTU as the destination for his overseas program. NTU is Taiwan's premier comprehensive university, and sits centrally in Taipei, offered the best of both worlds, a rigorous academic setting and a vibrant living environment.
NTU IoX Center, the best place for multidisciplinary research
Caspar especially appreciates Professor Jane Hsu, who is the first female professor of Computer Science and Information Engineering at NTU and also the director of the NTU IoX Center. Specializing in artificial intelligence, internet of things, and human-computer interaction, the center's mission of a multidisciplinary space bringing together local and international researchers who are passionate about providing innovative technology solutions aligns intimately with Caspar's. Being at the NTU IoX Center provided a spontaneous environment for Caspar to meet peers from disciplines much different from his own. He's occasionally participated in other peers' projects which helps to expand his horizon and may provide future inspirations for his own projects, Caspar said.
Research to help people and environment
When asked about his personal motivation in research, Caspar immediately responded that he wants to utilize technology to help tackle health issues, for both human and environment. One of his current projects is a medication management device to dispense appropriate dosage and utilizes AI technology to monitor intake to prevent overdosing and addiction. Medication management also helps to reduce excess medication from contaminating water resources and aquatic ecosystems.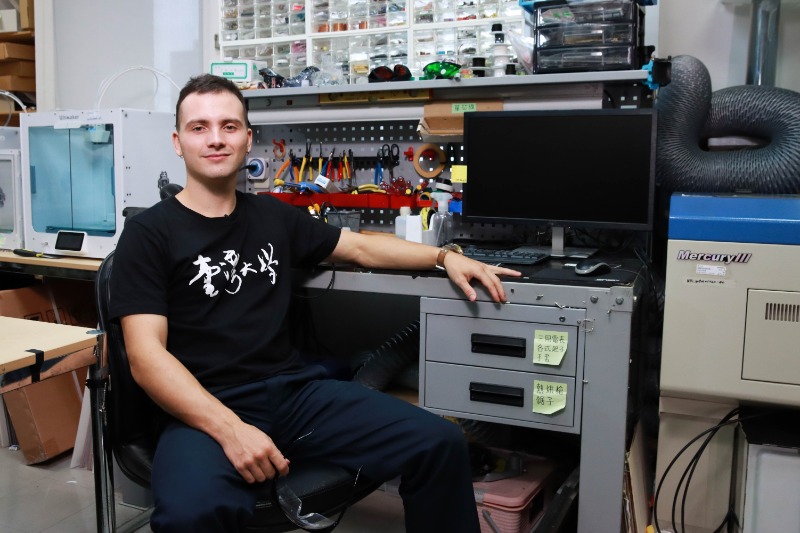 Resource abundance aids potential development
Filled with curiosity and keen to interact with his environment, Caspar described that the NTU campus offers just the combination of research-intensive setting and peer interactions. Though NTU peers competes with each other, they also encourage each other, forming a benevolent atmosphere. Besides the opportunities at NTU IoX Center, Caspar was also able to take advantage of the university environment to audit one of Prof. Jane Hsu's course on artificial intelligence. He even connected with a Master's student in the class and experimented on a user authentication method based on key-stroke analysis. Caspar also recalls from the early weeks of his stay that he was approached by a freshman student when walking around the NTU campus. It turned out the student was looking to connect with international peers for a Freshman English course and the next day Caspar introduced himself and his experiences researching in different regions to a class of freshmen. Caspar was genuinely surprised by the enthusiasm and proactive attitude evident through these interactions.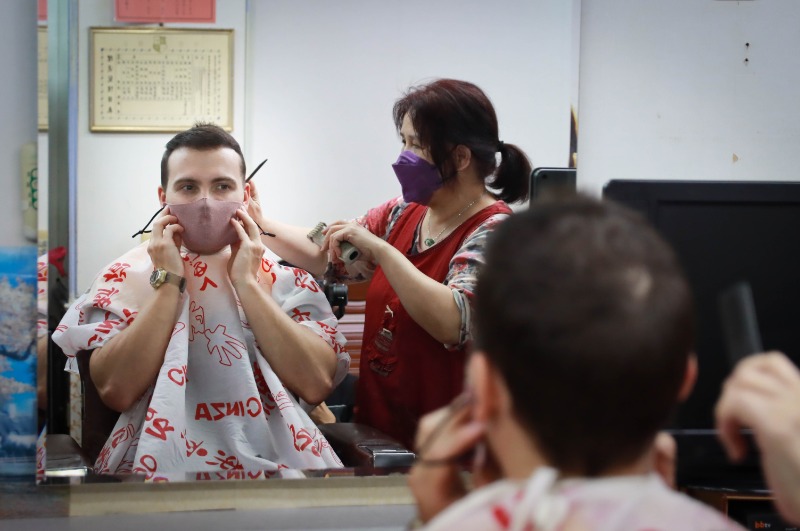 Work-life balance through proximity to nature
In addition to the academic environment, NTU sits in central urban area close to public transportations. Not only that, Taipei is surrounded by mountains with blue oceans just an hour drive away, offering both urban conveniences and easy access to nature which Caspar fell in love with. He took us sightseeing at nearby Fujhousan Park to experience the route he takes when looking for inspiration or needing to clear his head. He also frequents other hiking options right in central Taipei such as the Elephant Mountain and the Toad Mountain. We also followed Caspar to his residence at Minsheng community and learned that even though Caspar has only been living in Taiwan for just a few months, he's already a link in the local community. The nearby food vendor, Kaohsiung ba wan (that's not in Kaohsiung), recounts his weekly visits and knows his order by heart. Even the barber shop in the alleyway, the one and only that Caspar visits in Taiwan, knows just how he prefers his haircut.
Deepening ties between NYU and NTU
Although a portion of his stay here was affected by the pandemic prevention measures, Caspar says his experience at NTU has far exceeded his expectations and he recommends NTU to international scholars worldwide. He is grateful for the opportunity provided by Fulbright Taiwan and hopes there will be more exchanges between New York University and National Taiwan University. While there are still a few more months until the end of his visit, Caspar is already looking forward to coming back to Taiwan to explore further. NTU stands with open arms!