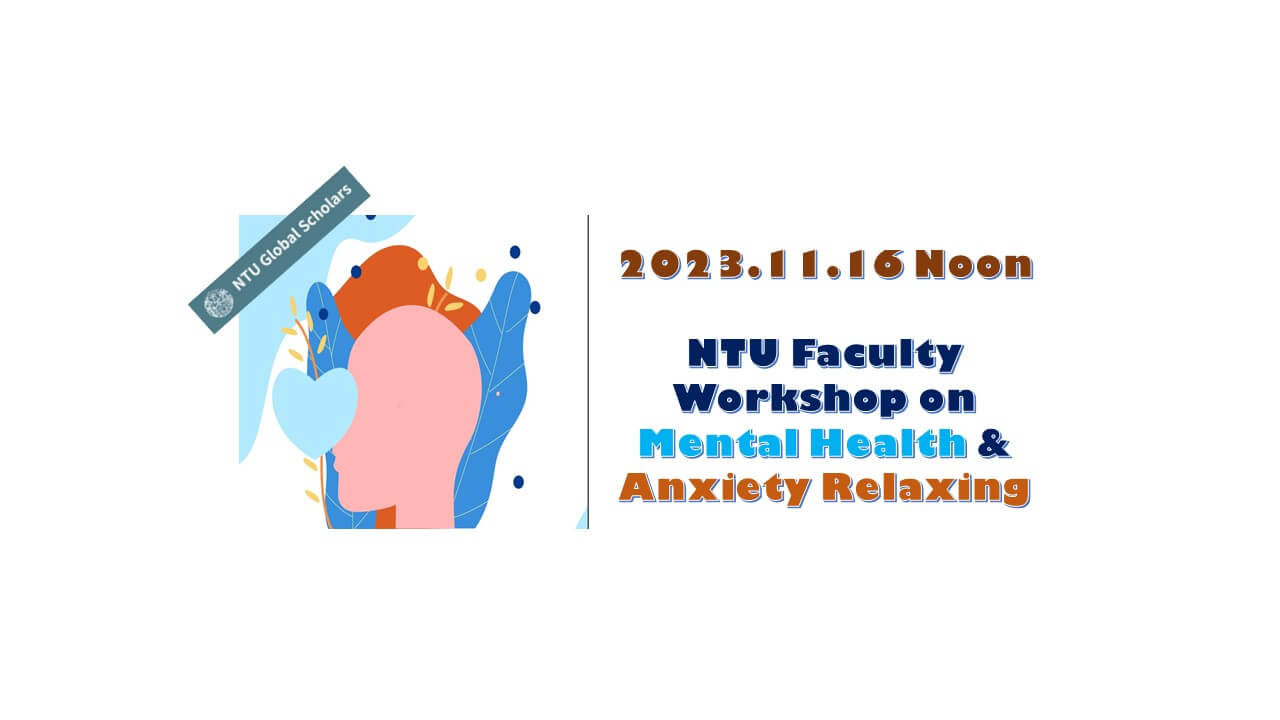 【Nov. 16th】 International Faculty workshop on Mental Health and Anxiety Relaxing
*Time: 2023 November 16th (Thursday) 12:20-13:20
*Language in use: English 
To raise the awareness of the issue, as well as to take care of our international faculty and staffs, NTU OIA invited experts in academia and clinical specialist to share their research and practices.
Mental Health and the suicidal factors, an always mentioned topic but somehow under-estimated since it's about the overall environment and interaction between several factors. 
Anxiety Relaxing, what the aforementioned factors might lead to individual's stress and anxiety, our specialist will guide us a process of self-detection and relax of anxiety during the session.
Our penal speakers:
Su Sen Chang- NTU College of Public Health, Director of the Institute of Health Behaviors and Community Sciences. Research focus on suicidal prevention and mental health.

Minjae Choi– Korea University Research Professor, research focus on societal epidemiology and suicidal prevention. Prof. Choi currently conduct cross-national research regarding the factors that endangers mental health.

Chun-Ju Tsung– Clinical Psychologist previously worked with Taipei Veterans General Hospital focusing on clinical Psychology, also a certified psychologist of the Taiwan Psycho-Oncology Society.
We sincerely invite you to participate in the workshop and to further check on individual's status, hoping to further help more people at the academic and practical levels. Thank you.
PlaceOIA Office Lixian Hall, 7th floor
Registration Deadline2023/11/13 18:00
Success
You have registered successfully, please confirm your mailbox