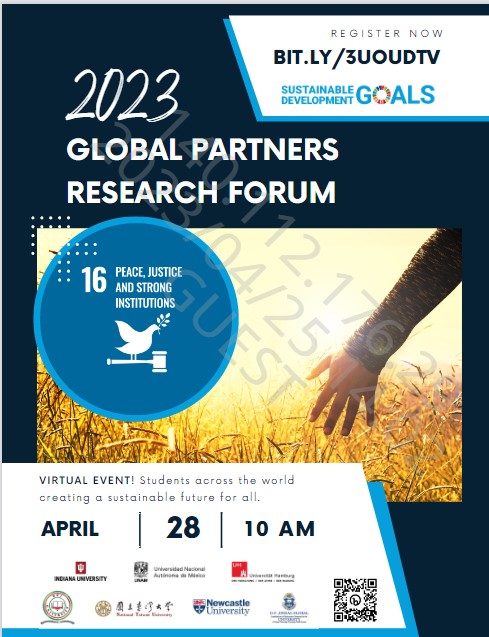 The 2023 UN SDG Global Partners Research Forum
The 2023 UN SDG Global Partners Research Forum is now open for registration! The forum is collaborated and hosted by NTU and 6 overseas partner universities, including Indiana University (U.S.A.), Moi University (Kenya), New Castle University (England), National Autonomous University of Mexico (Mexico), University of Hamburg (Germany), and O.P. Jindal Global University (India).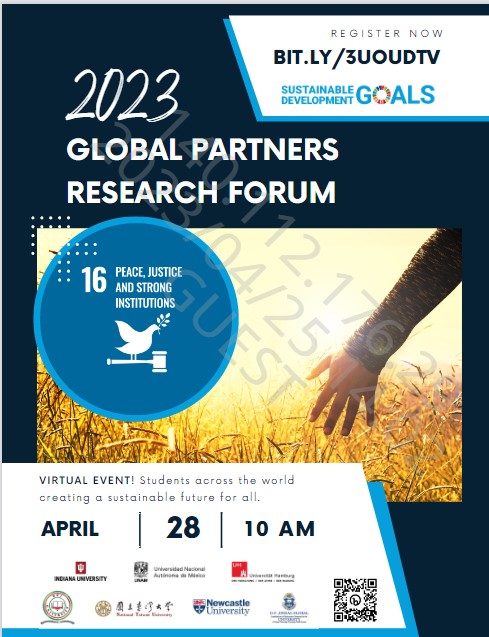 To empower students globally to exchange ideas and take actions in creating a sustainable future, the undergraduate and graduate winners of each university's parallel research project competition will come together to present the winning research projects and discuss issues relevant to this year's topic, UN SDG 16: Peace, Justice and Strong Institutions.
The forum is a public event. Please feel welcomed to register and join the forum!
Forum Information
– Registration Link: https://events.iu.edu/ovpia/event/932142-1
– Date and Time: April 28 (Fri.), 2023 22:00-23:30
– Mode: Online
– Language: English
– Agenda:
22:00-22:05 Introduction of the Partner Universities
22:05-22:15 Opening Remarks by Indiana University Vice President Hanna Buxbaum
22:15-23:20 Winning Research Project Presentation and Q&A
23:20-23:30 Panelists Discussion and Conclusion
Success
You have registered successfully, please confirm your mailbox